Parul Gupta has always perceived the world linearly, having fretted over why she saw things skewed and constantly repositioning herself so that she perceived lines in parallel. Upon deeper contemplation, she realised that this tendency was more than an innocent tic, and decided to use it to guide her art practice.
Parul was born into a business family and decided to study commerce, plunging herself into the marketplace of bulls and bears. Within a few years, she quit it all and gave her aesthetic eye a chance to train by opting to study art at the Nottingham Trent University, from where she graduated in 2011.
In the two or so weeks prior to my scheduled studio visit, I studied her art and made a short list of questions, but the fact that I could not fully grasp her work bothered me to no extent. Gupta intends her art to be experiential, observing closely the geometry of built environments and tweaking the viewer's perception in order to question the ways we see the world, how we abstract the same through art. Her rationale, she says, is that she wants the viewer to move around her work and not statically observe it. Her statement on her practice clarifies this rather aptly: "How can a spatial drawing change our perception of each individual space, as well the perception of ourselves in that space?" This is also how she imagines animation, frame to frame, drawn or modelled so as to make the viewer move while following the narration in the piece, instead of the other way around.
Gupta's artistic interventions either involve the inhabitation of a physical space or initiating an interaction between different planes and, by extension, different habitats.
Having begun with big coloured paintings, Gupta's minimalist aesthetic came to the fore while still at university. Observing her hair fall every day, she decided to collect strands and animate their fall in a video, succinctly titled Hairfall. This initial exploration of a basic line, choreographed to behave anew in a constructed environment, was only the beginning.
Her paintings explore the role of a basic line within a constructed environment.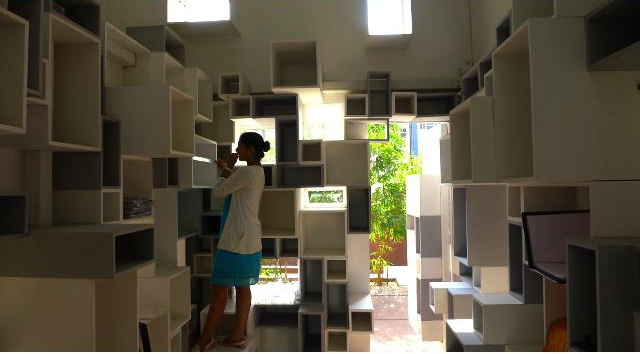 Gupta's artistic interventions are mostly site-specific, either involving the inhabitation of a physical space or initiating an interaction between different planes and, by extension, different habitats, drawn or photographed in the space. The drawings displayed at her solo show at the Visual Arts Gallery of the India Habitat Centre in 2012 were static representations and configurations of the line drawn in pen. However, it was the space offered at NIV Studios in Delhi that same year, and her decision to photograph elements of its interiors in shadow and light and from variant angles, that allowed her to experiment with site specificity. She displayed these juxtaposed to the element itself, two-dimensional against three-dimensional, slowly morphing together, extending or limiting space. She furthered this interest in successive participations in "Sarai Reader 09" at the Devi Art Foundation, 2012, KONA's "Alternative Space", 2013 and Khoj's "PEERS 2013".
Parul's need to break the normative aesthetic of the space has been largely motivated by an intuitive compulsion to fracture the "implied line" (assumed way of aligning or seeing) within a geometrical construction, in her case mostly architectural constructs. Her more recent works attempt at breaking the geometrical form — for now, the grid or square. Privy to these works at her studio, it's unnerving, yet somehow charming, to experience the artist's spontaneous piloting of disassociating relations between forms in order to re-condition and construe perception in a more sublime manner. It makes me wonder how her intended interactions with mathematicians and architects will contribute or change the dialogue.