Anindita Dutta uses clay to bring out the impermanence of life. Is it not fitting to see fistfuls of wet earth representing human mortality and our fleeting time on earth? Dig a little deeper and one realises that the material's properties allow for a host of metaphorical assumptions. Clay's tactile malleability and porosity, its availability in different grades and hues everywhere, as well as its range of uses (brick or porcelain) make it a versatile material employed in contemporary living today.
Everything Ends and Everything Matters is the title of the Indian-born, US-based artist Dutta's solo exhibit at Gallery Latitude 28 this season. The gallery supported the artist's project under the same title at the 2014 India Art Fair, where she built a large spiral monument in clay, activated by visceral performances of feeling, beating, and grasping the clay. The performance alluded to the ways in which we live our lives; trying to hold on to moments, perhaps the ones we missed living. How do we live when we know we are to die? The piece serves as a means of both venting the anxiety of impending death as well as imprinting a personal mark that survives for posterity. The spiral echoes the cyclic resilience of life as well as earth's corporeal form.
The title of the show is borrowed from American author Ron Currie Jr's psychological fiction novel Everything Matters. The novel narrates the troubled life of Junior Thibodeau who is born knowing when and how the world will end. While the protagonist struggles with his emotions and attachments to the people he cares for, Currie believes everything ends not in spite of us, but because of us. "Everything is all you've got... and after Everything is nothing".
Trained as a sculptor, Dutta finds the "performative" more attuned to her artistic aim, that of dialoguing with and conquering her state of transience through live installations that are "marked" by the imprints of human touch. For her current solo, she presents a selection of videos, photographs and sculptures of a series of performances, the latest of which were performed and photographed at Sanskriti Kendra in New Delhi where she recently concluded a residency. Crudely scraped and deeply textured with bare hands, spirals and lines emerge in clay as furrowed markings on a backdrop against which one or two individuals stand covered in clay as an incidental part of the surface. Everything merges into the clay; persons, environment, objects.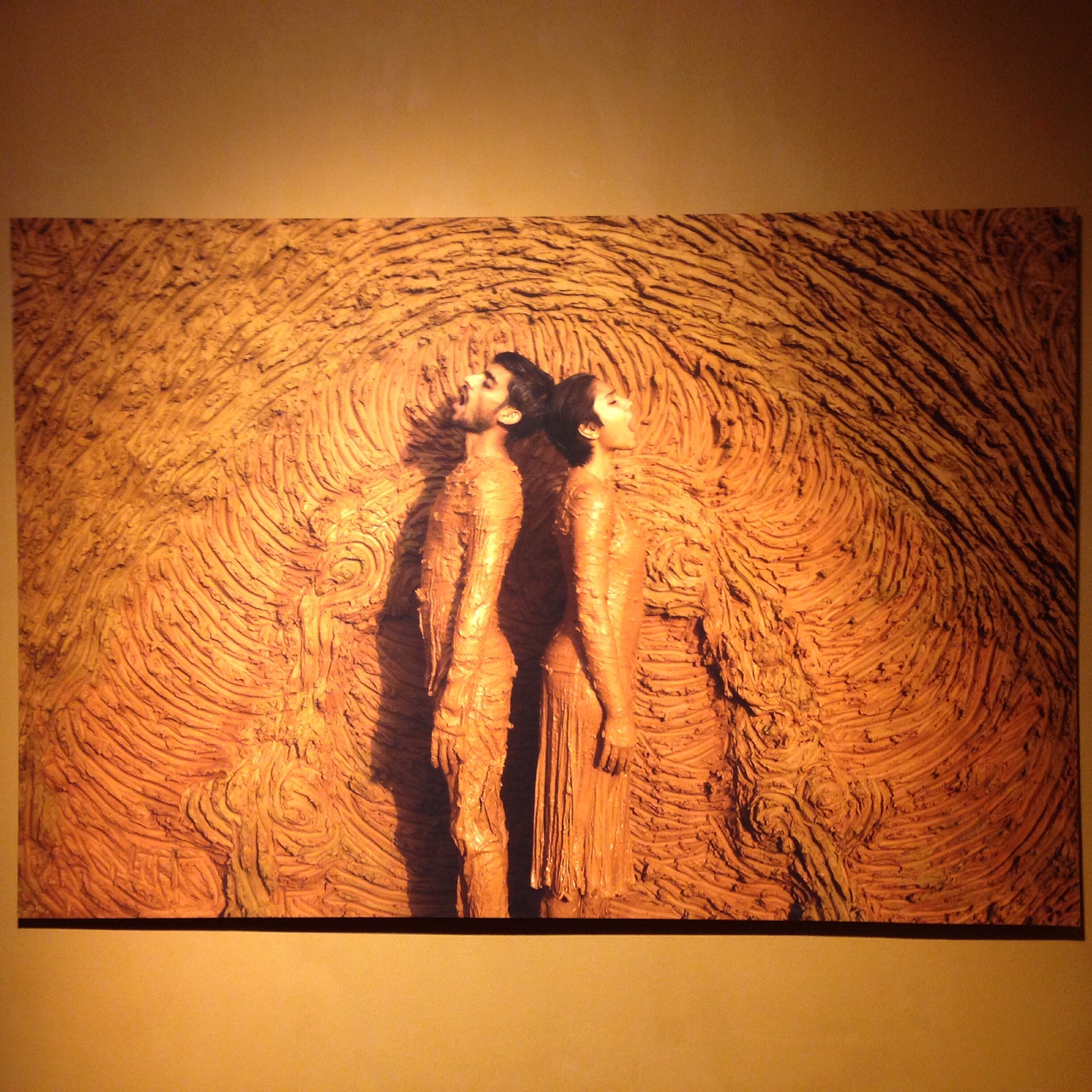 Perhaps Dutta follows in the lineage of earth-body art made popular by Cuban artist Ana Mendieta in the 1970s, where the artist used her performances of merging with the earth as her mark-making process; essentially a way to experiment with the genres of land, body and performance art, but within a feminist language.
Upon entering the gallery, one immediately finds two large photographic stills from Untitled performances in 2015. In one, the male and female clay smothered figures stand facing the camera, and symmetrically fit into either end of a rectangular frame. In the other, they stand back to back, mouths open as though gesturing a scream. The markings behind them here are tumultuous, vigorously drawn spirals that reflect the energy of their frame. The clay in the first frame is patterned into lines and spirals, deep and still, but resonating a far tamer energy. Dutta's metaphors are clear and continue in the same strain through the exhibition. In a triptych titled Self Portrait (2013), she appears holding three different gardening tools to her face, as though wanting to weed out unnecessary thoughts and illusionary ideas.
Dutta has cared for the finer details, ensuring the walls of the gallery weren't painted as they usually would be, but rather plastered with mud, the same colour of the mud in each of the frames. What overwhelms the viewer, then? Everything breathes the same energy and looks the same, save for a few grainy details. Yet, it does not feel like an immersive experience. The spectator remains the spectator. Dutta began her performative practice by using her own body as art object. She now collaborates with young actors and performers, collectively producing work under her direction. It was during her residency at the Fukuoka Art Museum, Japan (2010) that she first attempted a group performance, called A Mazingwith a group of local artists slowly trying to find their way in a maze, in life, often losing direction and resolve.
For the opening night of her solo show, Dutta performed Limitation (2005-15), with her head entrapped inside a slatted crate that was nailed to a clay covered wall. She attempts to move but is limited by the crate that stays firmly in place. The performance is for a duration of three minutes repeated for an hour.
Everything Ends and Everything Matters is an ongoing exhibition at Gallery Latitude 28 until 1 June.