We never notice light, we just assume it, claims Balkrishna Doshi in a short film that is part of a retrospective of his work at the National Gallery of Modern Art, New Delhi. Scribbled along the margins of a sheet of paper that lies in a vitrine containing a scaled model of the exhibition, I read another quote — "This is not the exhibition of an architect but an artist who sees all the stages of a place, building at one glance."
The retrospective is conceived as an experiential exhibit, as a way of simulating our engagement with architecture. Doshi insisted on the spatial design being accessible — for everyone to be able to relate to what was presented and possibly inspire those who visited. The challenge was taken up and successfully addressed by the curator and architect Khushnu Panthaki Hoof, who is also his granddaughter. "Celebrating Habitat: The Real, the Virtual and the Imaginary" is a celebration of our experiences with built spaces witnessed through projects conceived and executed by Doshi over a career spanning six decades.
Doshi's work is, in fact, representative of modern art, but not in an insular way. It is transformative. In his own words, "It is a dialogue with nature, community and building; architecture is a symphony". Doshi also happens to be a great storyteller, and the poetics with which he conveys an organic symbiosis with nature in words and work is truly invigorating.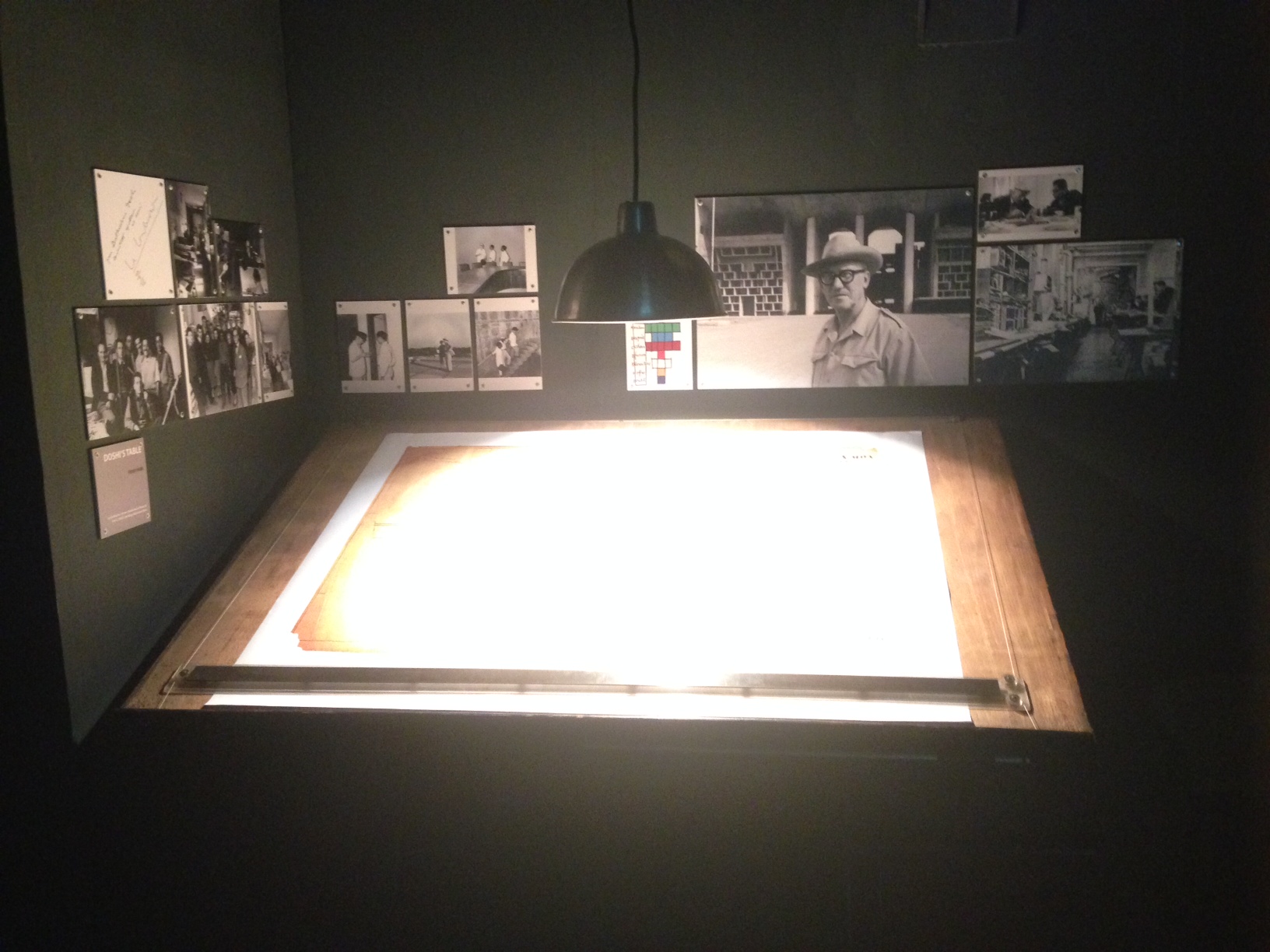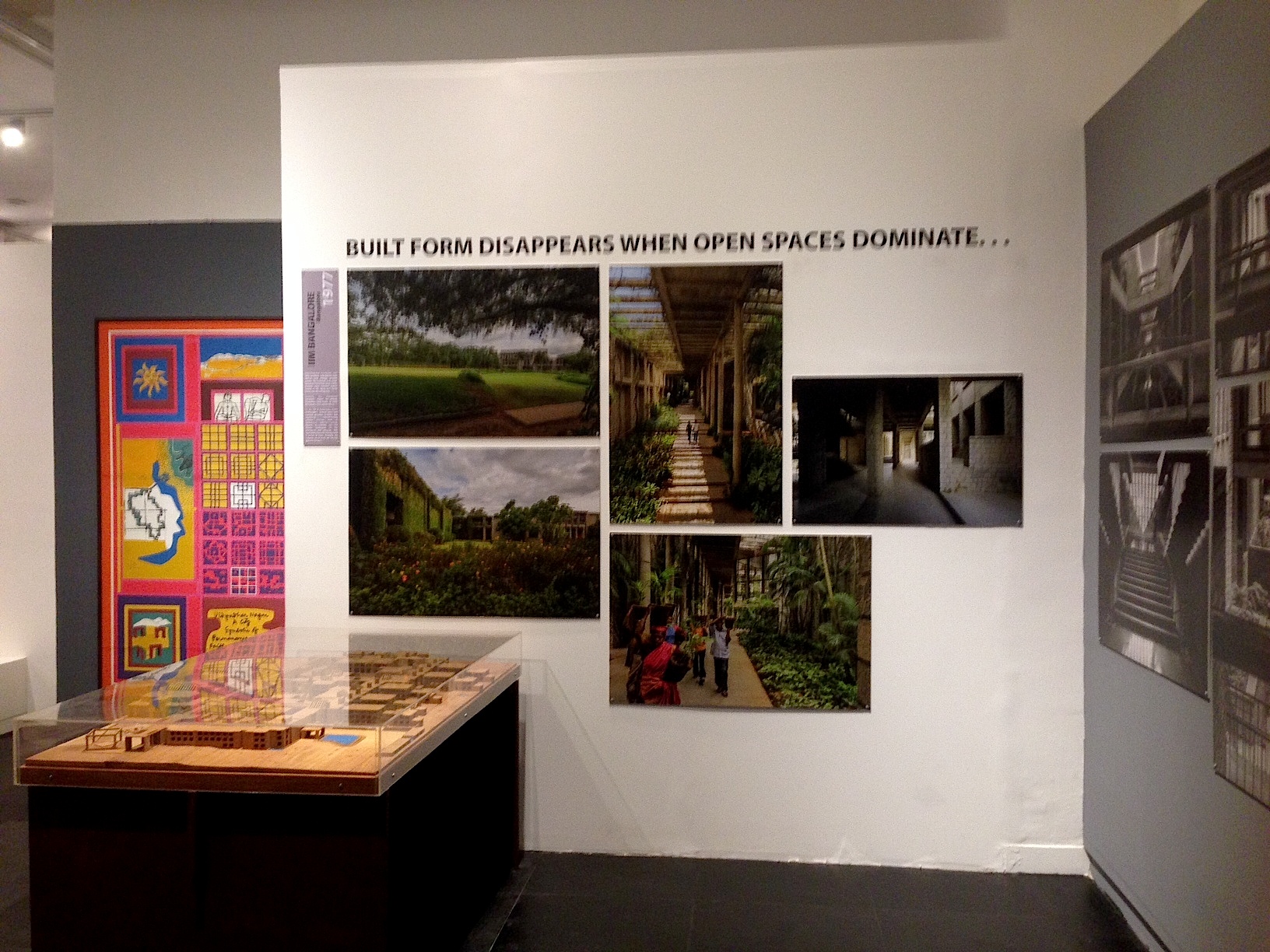 I enter the exhibition through four columns, representing the manner in which space is organised in any home and also the basis of all Doshi's residential constructions. Alongside are large colour photographs of how the pillars appear in the interior of his home. The four pillars also represent Le Corbusier, whom he trained under in Paris from 1952-1956; Louis Kahn, whom he invited to design IIM Bangalore with him; Rabindranath Tagore, for his conception of Shantiniketan; and Gandhi, whose teachings have guided his personal understanding of life and living. I wonder where to walk next — to my left is a gallery of paintings, to my right I see scaled models of buildings, more photographs and some furniture, right in front is a vaulted space which I then learn is representative of Doshi's office, Sangath Studio in Ahmedabad. Space is designed so as to not be leading, but interconnected. There is no chronology, and I agree that in this case, the non-linearity of spatial design is more effective in discovering and learning as one goes from a project to another. It is true to Doshi's vision of the exhibition being a laboratory. When asked how he imagined the 60 years of his architecture as being reflective of changes in society, he replies, "Design is not static and is related to time, place, function, occasions, reasons, concerns and belief of that time. It is also related to economy and sustainability."
The exhibition recreates not only the spaces he has envisioned and built, but also the impulse to each context and the inhabitants they have been built to house. It is a montage of experiences, in real time and space constructed through scaled models, sketches, interactive pieces, film and fragmented mock-ups. LIC Housing in Ahmedabad, National Institute of Fashion Technology in Delhi, Sawai Gandharva in Pune, City Hall in Toronto, Kanoria Centre for the Arts, as well as the famous Amdavad ni Gufa built in collaboration with M.F. Husain as an exhibition hall in Ahmedabad, are presented as overlapped and evolving into each other, yet they all are complete projects in their own right. Each resonates a certain timelessness.
The skillful play of scales and proportions is an imagined nuance of real space, that make this retrospective highly stimulating. It is a must-see. So, if you haven't already visited, today is the last day!